Neben, McNulty take TT World titles
(Oct. 11, 2016) – Amber Neben (Lake Forest, Calif./BEPINK) and Brandon McNulty (Phoenix, Ariz./LUX-Stradling p/b Specialized) collected elite women's and junior men's World Championship wins on Tuesday, claiming Team USA's first medals at the 2016 UCI Road World Championships in Doha, Qatar.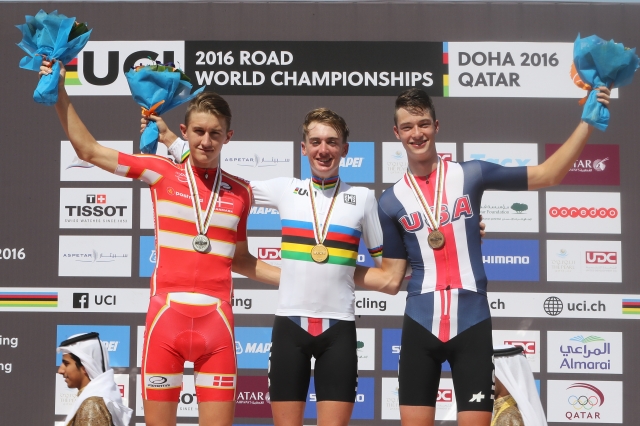 Neben clocked a 36:37.04 to earn her second career UCI Time Trial World Championship, edging Ellen van Dijk (NED) by 5.99 seconds and Katrin Garfoot (AUS) by 8.32 seconds. Just the 21st rider out of the gate, Neben spent nearly half of the contest in the hot seat before finally claiming her second Rainbow Jersey since 2008. The win puts her in the company of Kristin Armstrong (Boise, Idaho/TWENTY16-Ridebiker), Judith Arndt (GER), Jeannie Longo (FRA), Karin Thurig (SUI) and Leontien van Moorsel (NED) as the only women to win multiple UCI Time Trial World Championships.

Carmen Small (Durango, Colo./Cylance Pro Cycling) finished 12th in 38:39.19.

Earlier in the day, McNulty put in a 34:42.29 run to win the first U.S. Junior World title since Taylor Phinney's (Boulder, Colo./BMC Racing) 2007 win. McNulty, who earned bronze in the event in 2015, outlasted Denmark's Mikkel Bjerg by 35.18 seconds, while teammate Ian Garrison (Decatur, Ga./Holowesko-Citadel Racing Team p/b Hincapie Racing) clocked a 35:35.37 to take bronze. Tuesday's junior men's medals made it five in the last three years for Team USA, and 10 overall in the event since 1994.

Full 2016 UCI Road World Championships Individual Time Trial results.

Time trial competition closes out Wednesday with the elite men's race against the clock, as Taylor Phinney (Boulder, Colo./BMC Racing Team) and Alexey Vermeulen (Pickney, Mich./Team Lotto NL-Jumbo) look to continue Team USA's hot streak in Doha.

Visit the event website for schedules, results and event resources, and watch the action live on nbcsports.com or on the NBC Sports app. Follow Team USA on Twitter using the hashtag #ridewithUS.
This Article Updated October 11, 2016 @ 02:14 PM For more information contact: