DEVO: Juniors Learn to be Opportunistic in the Face of Adversity
(June 13, 2017)

– The junior men's team of the USA Cycling National Development Program wrapped up its springtime racing block last weekend by competing in the Trofeo Karlsberg, a four-day stage race on the UCI Nations' Cup calendar held in and around Gersheim, Germany.


"Typically rolling and technical with an ITT that usually separates and consolidates the overall, it is an excellent event that gives the sprinters and rouleurs opportunities each stage," said Junior Coach Billy Innes. "Take a risk and you can easily be rewarded. Follow the pack each stage and you will lose small chunks of time."

Sean Quinn (Sherman Oaks, Calif./LUX Cycling) was the top American in the GC at the end of the four days, finishing in 17th place, one minute and 19 seconds back from the leader. He also held the Best Young Rider jersey briefly after the opening stage, and was second overall in the KOM competition.

"We faced an uphill battle each day and had to be opportunistic," Innes said after the team was reduced from six to four men due to crashes. "But we did our best to animate what we could and the team learned some great lessons about timing efforts and searching out the breakaways."
Conor Schunk (Charlotte, N.C./Masters Cycling Systems LLC), Matteo Jorgenson (Boise, Idaho/Hot Tubes Development Cycling Team), and Riley Sheehan (Boulder, Colo./LUX Cycling) also finished the event for Team USA alongside Quinn.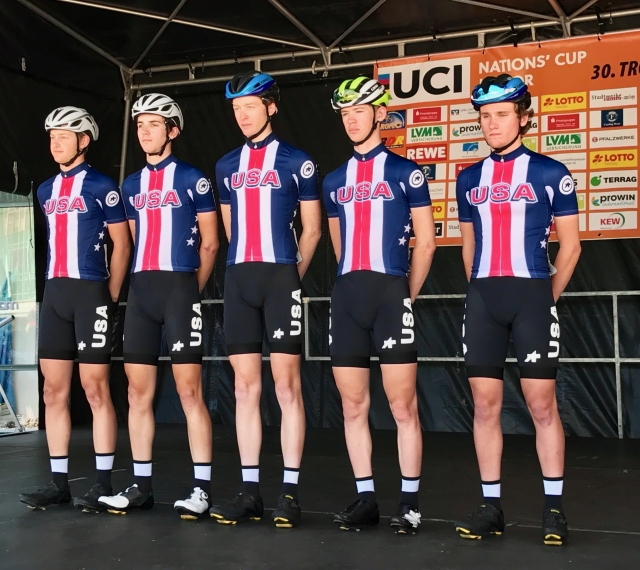 See complete results from Trofeo Karlsberg here.

Coming Up

Next up for junior athletes in the National Development Program is another UCI Nations' Cup event, the Tour de l'Abitibi in Canada, July 18-23.

The women's development program will take on the Tour de Feminin in Krasna Lipa, Czech Republic, July 6-9.

The U23 team will next be in action July 26-30 at the Tour of Alsace in France.

About USA Cycling's National Development Programs
USA Cycling's National Development Programs aim to achieve sustained success in international cycling competition for the United States by providing promising young athletes with a pathway to the top tier of the sport. Our athlete development programs begin with Talent ID Camps and move athletes all the way through to top international competition. Thanks to support from the United States Olympic Committee and to the generous support of our Foundation donors, we're able to facilitate programs for junior and U23 cyclists in all five discipline of competitive cycling. If you want to help support the future of American cycling, click here to make a donation now.
This Article Updated June 24, 2017 @ 11:47 PM For more information contact: