Amateur Road Nationals open on Thursday with Time Trials
Louisville, Ky. (June 29, 2017) – Cyclists from around the nation have overtaken Louisville as both the Amateur Road National Championships and Pro Criterium and Team Time Trial National Championships kicked off with the individual and team time trials on Thursday.

Spencer County High School in nearby Taylorsville set the stage as junior and elite amateurs set out for the individual time trials which were 10-kilometers on an out-and-back course for juniors 11-14, 20 kilometers on an out-and-back course for juniors 15-18, and 34 kilometers on a wishbone course for men in the U23 and open categories.

2016 Junior World Time Trial Champion Brandon McNulty (Phoenix, Ariz./Rally Cycling) won his first U23 national title today when he completed the 34-kilometer time trial course around Taylorsville Lake State Park in a time of 41:44. William Barta (Boise, Idaho/Axeon Hagens Berman) and Nielson Powless (Roseville, Calif./Axeon Hagens Berman) were second and third respectively.

With over 1,800 feet of elevation gain with rolling terrain, McNulty had to deliver constant power to secure the Stars-and-Stripes jersey. The result was quite a turnaround for him after he suffered from an illness and placed 22nd in the time trial at the Pro Road and Time Trial National Championships in Knoxville last weekend.

"It felt great! I knew that if my body was able to come around for today I would have a solid shot at the win," a happy McNulty explained afterwards. "I also knew my form was good coming off of some big efforts at the North Star Grand Prix, and everything just came together today. I'm very happy to take home the jersey and continue to bring home national titles for Rally Cycling."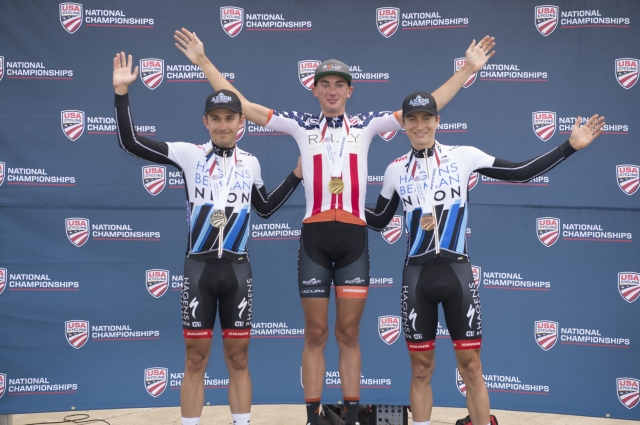 In the men's 17-18 time trial, which in addition to the U23 event, was one of the most competitive of the day, Kendrick Boots (Centennial, Colo.) took the win over 20 kilometers in 27:45.20. With 23 seconds to spare, he finished ahead of second- and third-place finishers Andrew Vollmer (Trabuco Canyon, Calif./LUX) and Riley Sheehan (Boulder, Colo./LUX).

For the junior women 17-18, strongwoman Summer Moak (Phoenix, Ariz./Sho-Air TWENTY20) was the one to ride onto the podium's top step. Her time was 30.21.62 which was 20 seconds faster than runner up Abigail Youngwerth (Boise, Idaho/Sho-Air TWENTY20). Megan Doherty (Bellevue, Wash./Seattle Cancer Care) rounded out the top three.

When the amateur men's open class took to the road, on the same course as the U23 men, it was George Simpson (Fort Collins, Colo./Gateway Harley-Davidson) to finish the fastest. His time of 43:11.68 was about 12 seconds better than the time posted by silver medalist Michael Olheiser (Huntsville, Ala.). Jonathan Jacob (Indianapolis, Ind.) was third.

In addition to the 17-18 juniors, the U23 men, and amateur men's open classes, junior men and women also left it all out on the course in the 11-12, 13-14, and 15-16 age groups. You can check out all of their results here.

After the individual time trials wrapped up on Thursday, eight team time trials were contested including the pro men's and women's which were won by Jelly Belly p/b Maxxis and Rally Cycling, respectively.

Amateur Road Nationals continues on Friday with the men's cat 1 road race, Men's U23 road race, and junior men's 15-16 road race all in Louisville's Cherokee Park. The rest of the road races will take place on Saturday before the action concludes on Sunday with downtown criteriums.

Follow #roadnats and @One2Go_Results on Twitter for live updates each day of the event!

For more information, please visit the links below:

Event webpage
Schedule
Start Lists
Complete Results
Photo Gallery

Media inquiries about Amateur Road Nationals or Pro Criterium & Team Time Trial Nationals can be directed to Jackie Tyson at jbt@pelotonsports.net or Keri Kahn at kkahn@usacycling.org.
This Article Updated July 1, 2017 @ 03:37 PM For more information contact: